3 July 2020
Copenhagen 2021 has today announced a formal partnership with twelve leading international governmental and civil society organisations focused on the protection of human rights and LGBTI+ equality.
The partner organisations are Amnesty International Denmark, Athlete Ally, the European Parliamentary Forum for Sexual and Reproductive Rights, Freemuse, Human Dignity Trust, Human Rights Watch, Outright Action International, LGBTQ Victory Institute, Parliamentarians for Global Action, Rainbow Railroad, UNFPA the United Nations sexual and reproductive health agency, and Workplace Pride.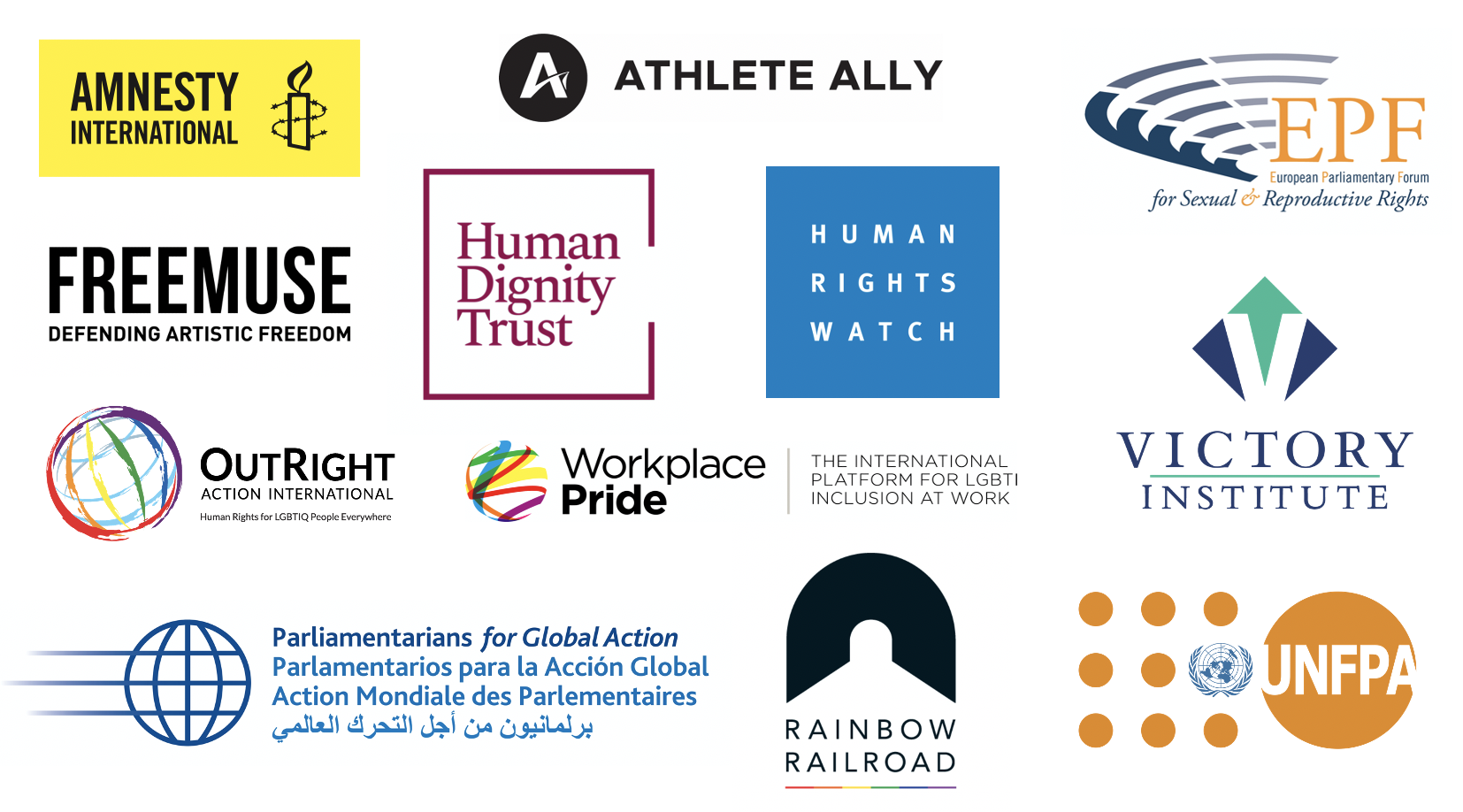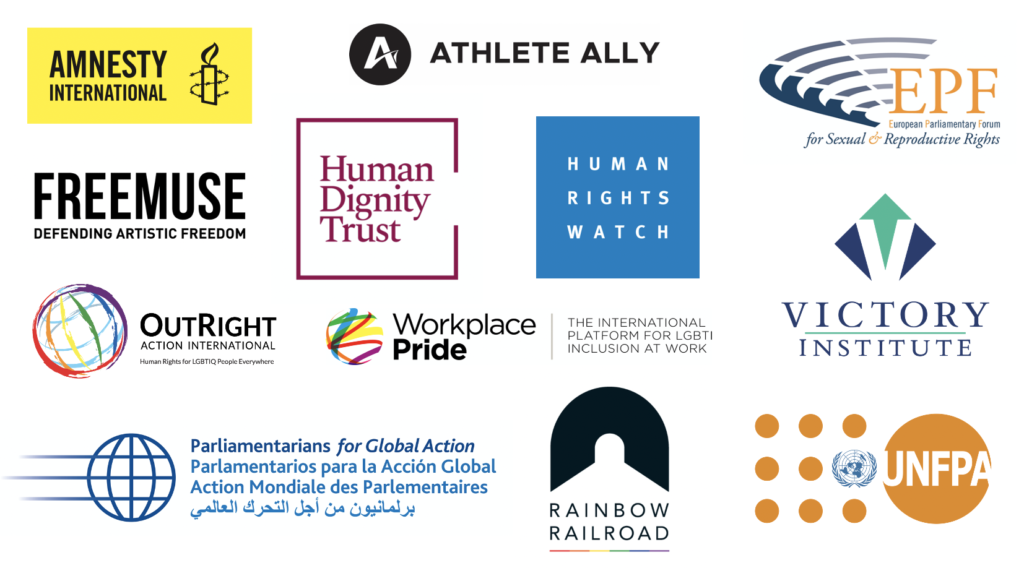 Director of Human Rights, Aron le Fèvre, said:
At Copenhagen 2021 we believe in the importance of meaningful collaborations in order to build a Human Rights Forum that is both targeting the right topics, inviting the right individuals, strengthening the international agenda of the LGBTI+ Community and creating sustainable and impactful output. Our official executive partners have an important role in the preparations and execution of the events and the follow up afterwards. The outlines of the partnerships take different shapes and forms, but all add in a meaningful way to the Copenhagen 2021 Human Rights Forum.
The Human Rights Forum includes an opening event at UN City, a three-day conference, 1:1 Democracy Festival, an Inter-Parliamentary Plenary Assembly at the Danish parliament, and a Refugees, Borders and Immigration Summit.
Helle Jacobsen, Program Manager Gender at Amnesty International Denmark said:
It's a human right to live a life free from discrimination based on sexual orientation, gender identity and sex characteristics. But unfortunately, there are still many places in the world where LGBTI+ people's rights are violated, and that's why Copenhagen 2021 is so important. The event gathers activists and politicians from all across the globe to discuss how we together can work for a better and more equal world for LGBTI+ people regardless of where they live. Amnesty is very pleased to be a partner in such a big and important event as Copenhagen 2021 where we together with people from all parts of the LGBTI+ community can shed light on these fundamental human rights."
Hudson Taylor, Founder, Executive Director & Board Member of Athlete Ally said:
Athlete Ally is thrilled to partner with Copenhagen 2021 to bring impactful content on the power of athlete activism and the importance of LGBTQI+ inclusion in sport. WorldPride and EuroGames coincide in a unique opportunity to reach audiences with the message that sport can and should be welcoming to all. We look forward to working together to educate, inspire and mobilize audiences to champion LGBTQI+ equality in and through sport.
Neil Datta, Secretary of the European Parliamentary Forum for Sexual and Reproductive Rights (EPF), said:
If a critical mass of parliamentarians commit to taking concrete actions to advance the rights and inclusion of LGBTI+ people, the impact would be profound and can drive legal, policy and social norm changes in every corner of the globe, genuinely ensuring that no one is left behind. EPF has a long history of creating synergies with parliamentarians around the world to defend sexual and reproductive rights for all human beings.
Dr Srirak Plipat, Executive Director of Freemuse said:
Freemuse is privileged to be partnering with Copenhagen 2021 to support and defend LGBTI+ artistry and expression. Our mission is to defend the right for all people to express their feelings and identity through artistic means. We are enthusiastic to work together with the partners and the LGBTI+ community to expand the space for all people to express themselves safely and without fear.
Téa Braun, Director of the Human Dignity Trust said:
The Human Dignity Trust is honoured to partner with Copenhagen 2021, and will use this occasion to shine a light on the urgent need to reform discriminatory laws which still criminalise LGBTI+ people in more than 70 countries. We look forward with enthusiasm to this opportunity to share strategies and tactics with key allies who are united in their dedication to equality and inclusion for LGBTI+ people the world over.
Graeme Reid, Director of the LGBT Rights Program at Human Rights Watch, said:
Human Rights Watch is eager to join the Copenhagen 2021 LGBTI+ Human Rights Forum as Executive Partner. The Forum presents a unique opportunity to gain a deeper understanding of the multiple human rights issues affecting sexual and gender minorities around the world. We look forward to strengthening partnerships and developing strategies between domestic and international organizations advocating for the rights of LGBTI+ people.
Jessica Stern, Executive Director of Outright Action International said:
In far too many places around the world violence and murder of LGBTI+ people remains a daily reality. Pride, in the vast variety of forms it takes, continues to be an expression of protest and defiance, an affirmation of our existence, and a message to authorities that they cannot and will not get away with denying our basic rights. OutRight is proud to partner with Copenhagen 2021 to keep fighting for our rights together!
Mayor Annise Parker, President & CEO, LGBTQ Victory Institute said:
The challenges facing our world are ever growing – from the pandemic to rising nationalism and the mistreatment of marginalized populations. There is no better way to build and promote inclusive solutions to these problems than to have governments that are representative of the people they serve – including LGBTI+ people. The Human Rights Forum is an opportunity for LGBTI+ elected officials, appointees and advocates to build a better world for everyone – and we are excited to be part of it.
Ms. Margareta Cederfelt, Member of Parliament of Sweden and President of Parliamentarians for Global Action (PGA) said:
Parliamentarians for Global Action (PGA) is delighted to partner with Copenhagen 2021 to highlight the role of parliamentarians in advancing the human rights and inclusion of LGBTI+ people. We look forward to working together, and in collaboration with other wonderful executive partners, in the lead up to–and implementation of–the Inter-Parliamentary Plenary. PGA is committed to supporting our partners' strategic actions to promote equality for all!
Kimahli Powell, Executive Director of Rainbow Railroad said:
Rainbow Railroad is incredibly proud to be partnering with Copenhagen 2021 to host the Human Rights Forum. Events like this have never been more necessary. Today in over 70 countries around the world, same-sex intimacy and gender identity are still criminalized. Rainbow Railroad exists to help persecuted LGBTI+ people escape dire situations. But, we also envision a world in which all LGBTI+ people can live freely and openly, regardless of what country they live in.
Dr Natalia Kanem, Executive Director of UNFPA the United Nations sexual and reproductive health agency, said:
The widespread violence, discrimination and exclusion faced by LGBTI+ people and their families constitute serious human rights violations and impede efforts to achieve the Sustainable Development Goals and their promise of leaving no one behind. UNFPA is committed to addressing the specific needs of LGBTI+ people. Around the world, we support health, comprehensive sexuality education and advocacy initiatives that help marginalized communities and lift up young people, including the LGBTI+ youth often left behind.
Further information on the Human Rights Forum and the five events can be found here.
Update 18 August 2020: We are delighted that ORAM have joined the other organisations as an additional Official Executive Partner.