'Human rights should be at the core of all LGBTI+ events. That's why Copenhagen 2021 will feature several human rights-focused events to push our agenda of equality and diversity forward.'
The Copenhagen 2021 Human Rights Forum is an international LGBTI+ experience consisting of multiple high-level events and a broader program open to the public.
The diversity and aim of our different events create opportunities to target different groups within and outside our community, including politicians, activists, media, government officials, and the general public, and bring them together to create awareness, understanding and give everybody the possibility to broaden their horizons and take action.
Watch our Director of Human Rights introduce the Human Rights Forum (also available in French and Spanish).
UN City LGBTI+ Fair
The UN City fair will take place on August 16 at UN City Copenhagen. The vision of the United Nations LGBTI+ Fair is to create opportunities for participants to meet the different United Nations agencies that will showcase their work and research in the area of LGBTI+ Inclusion. We envision this fair to be an inclusive space created for an open dialogue and interaction between the participating agencies and the audiences from communities and allies representing different parts of the globe.
Official Opening in the UN City
Monday 16 August from 15:15-17:30, we meet in the framework of Copenhagen 2021 at UN City Copenhagen, to evaluate the progress, discuss challenges and opportunities, and to suggest a way forward that secures the inclusion of LGBTI+ people in the frame of the global SDGs. The opening event is organized in collaboration with UNFPA, the United Nations sexual and reproductive health agency and coordinated with other UN entities. Around 250 participants will be welcomed in the lobby areas of UN City Copenhagen for an inspirational fair before the official 'kick-off' of the Human Rights Forum in the UN City auditorium.  
Human Rights Conference
Human rights defenders and activists from all over the globe will gather physically and digitally in Copenhagen between 17-19 August. The three-day conference takes place in a hybrid form with physical elements for participants in person and full online access to content sessions, to facilitate the engagement of as many people as possible. The conference is open for human rights defenders and activists, elected officials, academics, NGOs, media, Pride organizers and sports leaders in the field of LGBTI+ rights, and anybody else interested in the more in-depth LGBTI+ cause.
1:1 Democracy Festival
Based on Copenhagen Pride's Human Rights Programme and inspired by the Scandinavian model of 'Folkemøde', 1:1 Democracy Festival is open for five days of events as part of the Human Rights Forum. The 1:1 Democracy Festival aims to bring together politicians, activists and members of the general public in an informal and open setting to create a space of awareness and an understanding of issues and challenges faced by different minorities around the world.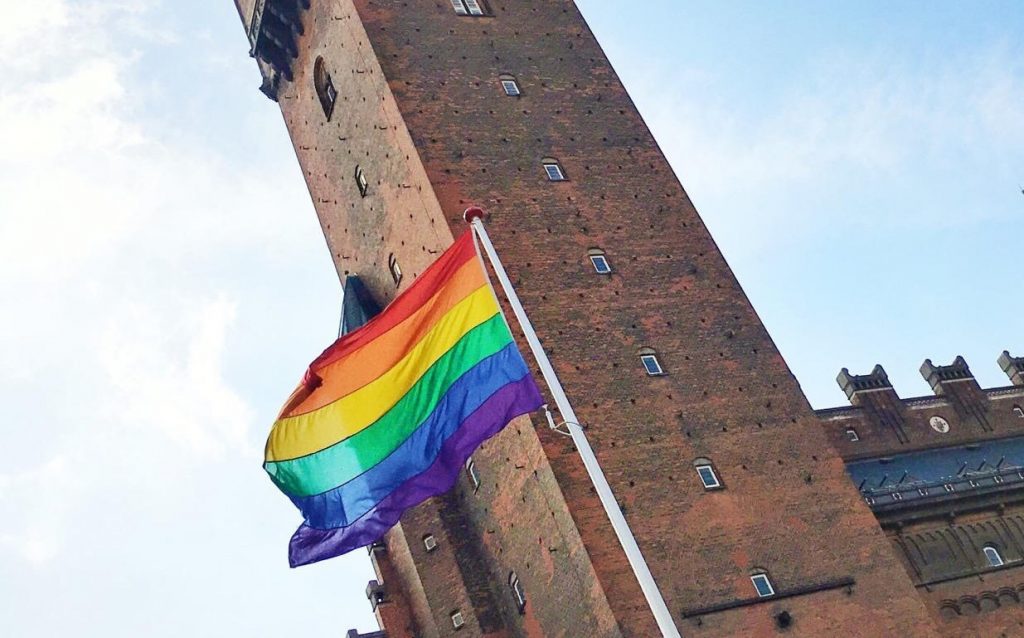 Interparliamentary Plenary Session
On Friday 20 August 2021 elected officials from all over the world will gather both physically and digitally for the Copenhagen 2021 LGBTI+ focused Interparliamentary Plenary Assembly (IPA) taking place at Christiansborg Palace from 09:00-18:00, the seat of the Danish Parliament, also called the Folketing. This event will be taking place physically and be interpreted and accessible digitally for active participation in English, French, Spanish and Danish.
Embassy Engagement Programme
To live up to the notion of a world event, Copenhagen 2021 has been seeking global engagement from our community. In collaboration with the Danish Ministry of Foreign Affairs, we have been planning closer cooperation with our missions/embassies abroad, establishing the Embassy Engagement Program and bringing Copenhagen 2021 to the world.
We are in collaboration with more than 75 Danish and Swedish missions all over the world who are working together with national and regional LGBTI+ organizations and other partners in order to directly include the voice of the community. Some missions will be live-streaming some of the events taking place during Copenhagen 2021, others are for example hosting round tables.
Refugees, Borders and Immigration Summit
The summit is taking place in Malmö on Friday 20 August, and the event will have an international focus and target transnational situations and gather a broad participatory audience both digitally and physically. The event will be held in English and interpreted into French, Spanish, Swedish also including international sign language.
LGBTI+ Workplace Inclusion Day
The LGBTI+ Workplace Inclusion Day, taking place on Wednesday, 18 August within the space of the Human Rights Conference of Copenhagen 2021, will focus on how to create workplaces where everyone can be themselves. It will cover all sides of the story from creating supporting structures within organizations to corporate advocacy that can impact LGBTI+ non-friendly legislation through plenary sessions, townhalls, and breakout sessions.
Executive partner organisations
The events taking place during the Human Rights Forum will be delivered in close collaboration with our 20 official executive partners with whom we signed Memoranda of Understanding to outline and shape the collaboration.