The #YouAreIncluded podcast from Copenhagen 2021 fills your ears every Thursday with inclusive discussions about sport, human rights, arts and culture, and Pride.
Hosted by cultural historian Anders Larsen – aka drag artist Chantal al Arab – with diverse and international guests, each episode focuses on a different element of Copenhagen 2021. Expect interviews, discussions, audio tours, event previews and a whole lot more.
Episode 2: EuroGames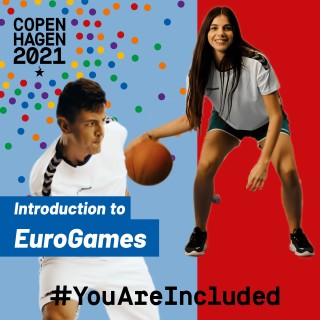 In the latest episode Anders talks to Erika Patrikainen of EGLSF, Christian Bigom of Pan Idræt and Katja Moesgaard of Copenhagen 2021 about the upcoming EuroGames at Copenhagen 2021. And he interviews Jon Lee Olsen, the Danish national team Ice Hockey Player about coming out in sport.
Listen to "You Are Included" on Spreaker.
How to listen
Just search for 'Copenhagen 2021' on your preferred podcast platform!
Forthcoming episodes
Introduction to the Arts & Culture program (Thursday 28 January)
Introduction to the Human Rights Forum (Thursday 4 February)
Introduction to WorldPride (Thursday 11 February)
The Love? Episode (Thursday 18 February)
Feedback and suggestions
We'd love to hear your feedback, and suggestions for topics and guests we should include. Just drop an email to:
communication@copenhagen2021.com
Credits
Host: Anders Larsen
Producer: Anders Guldberg
Coordinator: Jemma Tracey
Produced by hearHEAR for Copenhagen 2021