Focus and responsibility
The Communications Strategy for Copenhagen 2021, agreed in 2018, set the following four objectives for the success of the project's communications:
Create visibility around Copenhagen 2021 and attract participants from all over the world;
Position Greater Copenhagen region as a diverse destination where LGBTI+ tourists can feel welcome;
Involve the city's culture institutions, sports clubs and human and LGBTI+ rights organisations as content partners in Copenhagen 2021; and
Put LGBTI+ rights and inclusion on the political agenda in Denmark and around the world.
The Strategy was distilled into a Communications Plan for each 12-month period, beginning in 2018. These included detailed plans for all areas of communications, including marketing, public and media relations, social media, and programme development.
Organisation
Within Happy Copenhagen, the Communications Team had a cross-pillar function across all areas of Copenhagen 2021, and all communications and marketing activity was channelled through, or organised in liaison with, the Communications Team. This was essential given the scope and breadth of the event and the need for consistency of approach. The Director of Communications was a member of the Management Team.
Team
Over the duration of Happy Copenhagen, the communications function has been led by three people. Martin Xaver Dover was hired as Communications Manager in August 2016 and for three years led the early stages of the activity. Rasmus Strøyer was hired as Director of Communications in October 2019 but he missed television production, where he came from, and returned to television. Steve Taylor was hired as Director of Communications in March 2020 and remained in post until the end of the project.
Additional team members were recruited from the middle of 2020:
Graphic Designer from June 2020
Communications Coordinator from July 2020
Digital Marketing Officer (intern) from July to September 2020
PR Consultant – Danish Media from October 2020
Social Media Content Manager from April 2021
2 x Communications Officer from May 2021
Digital Production Manager from April 2021
Digital Production Coordinator from June 2021
Social Media Manager (intern) from July 2021
In addition, two Communications Managers from Malmö stad were seconded full time to the project to handle communications on the Swedish side. During the event, we had one additional Communications Coordinator in Copenhagen.
The team was multi-skilled with a great deal of experience across a range of organisations and experiences, with team members at different stages of their careers. The team was also diverse, including diversity of gender, sexual identity, nationality, ethnicity and disability.
Brand and identity
A strong brand and visual identity was essential to the success of communications and marketing activity for a complex global event containing so many elements and varying activations. We therefore engaged with leading Copenhagen creative agency Adtomic, whose other clients include major brands such as Novo Nordisk, Carlsberg, Arla and Visit Denmark.
Adtomic were given a brief to develop a visual identity that 'brought diversity together'; acknowledging the diversity of our event, the number of different types of activity, and the diversity of the LGBTI+ community. The brief demanded a versatile visual identity that would allow easy application across all applications but that would be immediately recognisable.
The visual identity that resulted – the roundel made up of different coloured dots around the word 'Copenhagen 2021' and incorporating the EuroGames star – was launched in 2017 and was received with great excitement. The identity developed further over time, with the final 'playbook' agreed in early 2020.
Download the Press Kit (May 2021 version)
We hired an in-house Graphic Designer in June 2020 who also became the brand champion – and occasionally the 'brand cop', when the brand was misused. Having a highly skilled and fast working Designer working only on our project helped us to turn around high quality design tasks in very quick time and with confidence about the quality. We did not use any external graphic designers at any time: every item featuring our branding (except for partner and sponsor applications) was designed in our office.
Marketing
A detailed Marketing Plan was developed and agreed in early 2018, identifying five separate phases for marketing activity:
Summer 2018: We're hosting WorldPride and EuroGames – raising awareness that Copenhagen is to host both events.
September 2018 – June 2019: Copenhagen is your destination – focusing on how welcoming Copenhagen is to LGBTI+ travellers, and further raising awareness (though not promoting WorldPride itself until the conclusion of New York City WorldPride 2019, as required by InterPride).
June 2019-July 2020: Copenhagen 2021 is coming up – after NYC WorldPride, increasing targeted advertising and promotion, including PR activity.
August 2020-July 2021: One year left – Countdown, activations, and visibility ramping up the excitement and interest across markets, platforms and media outlets.
August 2021: Event live – Digital delivery for those not able to physically attend, ensuring that people felt included.
The plan focused on three key markets, with specific countries identified within them: Scandinavia (specifically Denmark, Sweden and Norway); Europe (specifically UK, Germany, Spain, Italy, France and the Netherlands); International (specifically USA, Canada, Australia, New Zealand).
The realisation at the start of 2020 of the impact of the pandemic led us to put the Marketing Plan on hold, as we realised that travel restrictions could be long term and that the pandemic would seriously affect people's willingness and desire to make arrangements to travel. We shifted from the five phases outlined above, to three phases based on the framing of our marketing and communication, with dates that could not be defined when they were planned. The dates below relate to the dates that each phase was active.
Reassurance (April 2020 to mid-May 2021): We aimed to reassure that despite the uncertainties, we were continuing to plan to deliver our event, and we were clear about the approach we were taking. Nothing was guaranteed, but we reassured that we were honest and up front about our situation and our plans. We continued to create and build excitement and interest in the event. This included a global advertising campaign in LGBTI+ media running in October and November 2020.
Confidence (mid-May 2021 to early July 2021): As Denmark began to lift restrictions, we ran a campaign highlighting that Copenhagen was reopening and restrictions were lifting. This included rapidly produced film and digital content to show life returning to normal, and this was promoted heavily through paid social media in key European markets.
Countdown: (early July until early August 2021): Once we had a positive statement from the Danish government of the minimal restrictions that would be in place in August, we ran a countdown campaign across Europe, USA and Canada to attract last-minute visitors. This was delivered mainly through paid social media.
In the middle of the 'Reassurance' phase, we commissioned a short film from Copenhagen agency, Revolt. This short film (below) was designed for social media and to highlight the breadth of the Copenhagen 2021 programme and offer, with subtle nods to the ongoing pandemic – such as facemasks being worn by participants in the WorldPride Parade.
The film was cast entirely from members of the LGBTI+ community in Copenhagen and Malmö. The film premiered on social media in October 2020 and was then a central element of paid and organic marketing activity for the next six months. More than 6m social media users saw the film in Europe and North America, largely through LGBTI+ media outlets.
A significant element of marketing activity should have taken place physically at LGBTI+ sports events, Prides and other LGBTI+ and cultural events during 2020 and 2021. The pandemic cancelled most of these – including, sadly, EuroGames 2020 in Düsseldorf. We quickly pivoted to developing means of marketing to these audiences through online platforms, including providing an exclusive video message from our patron, HRH The Crown Princess to Global Pride 2020, which had an estimated audience of 57m in June 2020. Global Pride also ran a short animation each hour to promote Copenhagen 2021. We ran numerous webinars for sports groups, Pride organisers, human rights organisations, media, and travel and tourism agencies worldwide.
The brief lifting of some Danish COVID19 restrictions in August 2020 enabled us, with the support of Visit Denmark and Wonderful Copenhagen, to bring nine European LGBTI+ journalists to Copenhagen for a three-day, two-night press trip which coincided with a scaled back Copenhagen Pride week. We provided an itinerary that included tours of the city and key venues to be used during Copenhagen 2021, dining, meetings with key colleagues, and presentations on our plans. The press trip resulted in a number of excellent travel pieces in outlets including GAY.it (Italy), Attitude Magazine (UK), and Mannschaft (Germany). A further press trip was facilitated in June 2021, although fewer journalists could join due to the travel restrictions.
We were delighted to enter into formal partnerships with several media companies in Denmark and abroad, to achieve our aim of ensuring we had highly engaged media colleagues who could deliver high quality media coverage across the whole event, not just focusing on the best known elements.
Within Denmark, TV2 were our broadcast media partner. Their intention had been to broadcast a number of live shows from Copenhagen 2021, including live music concerts and the WorldPride Parade. The revisions to our plans caused by the pandemic restrictions led TV2 to withdraw from the live broadcasts, but they remained as a media partner.
Aller Media are the biggest publisher of magazines in the Nordic countries and through our partnership, their titles covered many aspects of Copenhagen 2021's events and mission. This included a feature on gender identity in a family magazine, a number of features in a magazine aimed at young people, and the first time an out lesbian had appeared on the cover of a Danish magazine.
DIVA Magazine were a key international media partner, as Europe's leading magazine for LBTI+ women, as we wanted to tell the story of inclusion at Copenhagen 2021 – and not least raise awareness and interest in Fluid Festival. The Editor of DIVA also appeared at the Festival and took part in the WorldPride March.
Pride Life Global became a media partner in early 2021 to support delivery of the printed Copenhagen 2021 Guide, a magazine containing information on the event and listing highlights. Further information can be found under Communications channels and outputs below.
Time Out, the global entertainment and listings magazine group, partnered with us for one event, the Drag Night concert. Following the success of their partnership with Global Pride 2020, they were keen to promote the Drag Night live stream to their global audience. Time Out also featured interviews with some of the performers appearing at Drag Night.
Communications channels and outputs
The rapidly changing nature of the global pandemic rendered any detailed communications planning redundant, and so we opted instead for a Communications Grid where we had key targets and activities outlined, with detail planned four to six weeks ahead. The Communications Grid, although confidential, was shared with key external partners such as the City of Copenhagen, Visit Denmark, and licensing organisations EGLSF and InterPride. It was revised regularly, and at least once every three weeks. All planned external communications activity was included in the Grid. A redacted, shortened example of the Grid can be downloaded here.
Almost all external communication was in English, as required by the contracts from the licensing organisations. Resource limitations prevented more content in Danish. Specific information – such as for local businesses and residents – was delivered in Danish, and some Facebook Event pages were created with Danish content. The parent organisations Copenhagen Pride and Pan Idræt posted about Copenhagen 2021 in Danish.
Content and campaigns
START / About Time
Two films were produced in the 12 months leading up to Copenhagen 2021, to draw attention to different aspects of our plans.
START premiered on all channels in October 2020 and formed the core of our international marketing activity up to March 2021. With participants drawn from the LGBTI+ community in Copenhagen and Malmö, the film brought to life the different activities in which visitors could engage during the event. At a time when we could not film 'real' activities due to the pandemic – and a great deal of content that could have been filmed during Copenhagen Pride and Malmö Pride in 2020 had they gone ahead in full – we opted for a studio production but one that was bright, loud and engaging.
'About Time' premiered at the Korea Queer Film Festival in South Korea in July, and was directed and produced by Jacob Mattiesen and Kavian Borhani, professionals living in Copenhagen who developed the idea and gave their time to us for free. It asked the viewer to consider that, when lockdown lifts, social isolation remains a fact of life for LGBTI+ people all over the world, many of whom are forced into isolation at home, school, college and at work. It was filmed in Copenhagen and is a powerful piece of our legacy.
Podcast
The exponential growth in podcast listening and market penetration led us to develop a plan for a Copenhagen 2021 podcast, titled #YouAreIncluded. We aimed to have a weekly episode throughout 2021 (beginning in January), focusing on different topics of relevance to the event, including subject deep dives, interviews, programme previews, and profiles.
We engaged a specialist agency in Copenhagen to produce the podcast for us. The Communications Coordinator became the project manager from our side, scheduling and arranging interviews and other content recording, and liaising with the production company. The production of a weekly episode required approximately two days of the Coordinator's time each week and at times the podcast became a worthwhile but significant demand on resources.
Hosted by cultural historian Anders Larsen – alter ego of Copenhagen drag queen Chantal al Arab – the quality and variety of the content included in the podcast is notable, as is the quality of the production itself. However, we underestimated the difficulty in getting cut-through to the listener numbers that we hoped for, and difficulty in engaging other LGBTI+ podcasts in sharing the content. Although we averaged more than 11,000 downloads, the weekly peak was 1,552.
All episodes of the #YouAreIncluded Podcast will remain available on Apple, Google, Spotify and Spreaker as part of our archive, and they can be found on our website.
Noteworthy days
Throughout the year there are several noteworthy days and weeks in which the LGBTI+ community, or sections thereof, are celebrated or remembered. These include the International Day Against Homophobia, Biphobia, Intersexphobia and Transphobia in May, and Coming Out Day in October. These were marked in each year on our social media channels, always with shareable graphics and sometimes with special films. These were an important activation that allowed us to show to everyone that #YouAreIncluded.
Programme points
As we drew closer to August 2021, we were able to publish details of events and key points in our programme, including speakers at the Human Rights Forum, aspects of the EuroGames tournaments and areas such as Sports Village, details of Arts & Culture programming such as Fluid Festival and Huset 2021, and information on the WorldPride Opening Parade in Malmö and the six WorldPride Marches in Copenhagen. We were also able to use Facebook Events for each activity to increase sign ups and engagement.
Digital
App
The Copenhagen 2021 smartphone app launched in November 2020 based on the GreenCopper platform often used by major festivals including some Pride events. The app – which will remain in app stores until August 2022 – had detailed information on all events, venues and locations, artists, speakers, and athletes competing in EuroGames. The app also contained practical information on public transport, safety, and interactive maps of both Copenhagen and Malmö.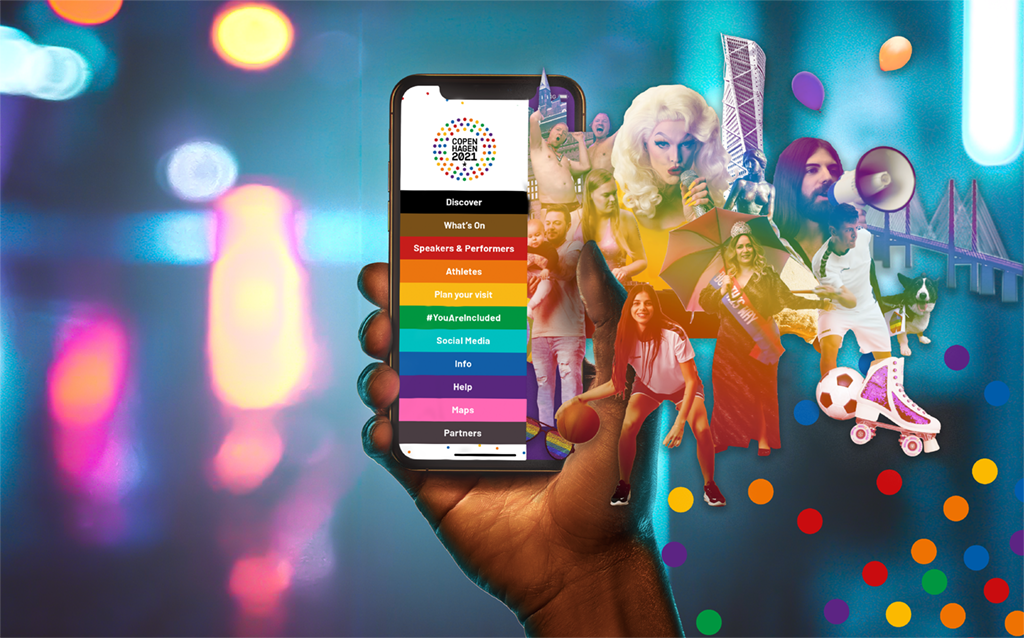 A total of 69,141 users downloaded or accessed the app content, with more than 80% of app downloads taking place in July or August. We listed a total of 1,284 events.
We sent 20 event-specific push notifications during the event, each reaching between 9,400 and 14,400 unique users. Push notifications were used to highlight specific events, to give reminders on COVID19 hygiene, and to give general information messages.
Ads within the app were viewed 214k times, and these promoted our partnership with hummel and ORLO Watches, and also promoted EuroGames participation, and the Human Rights and Sports Leader Conferences.
Our intention for app content to be available in six languages (English, Danish, Swedish, French, Spanish, Portuguese) was over-ambitious and we recognise that we should have limited this to three. The volume of events and content meant that it was impossible to keep up with translation or content editing, especially when we were often relying on volunteers to provide translation.
Website
The Copenhagen 2021 website launched in 2017 and gradually developed into the event website that was complete in May 2021. It was WordPress based and designed and maintained by designers and developers in Denmark and Ukraine, with editing undertaken by members of the Communications Team.
Please download the PDF version of the Report to see the website architecture.
During the event live period the website had 148k hits from 135k unique users. 74% of visits were from devices in Denmark, 7% in Sweden, with Germany (3.7%), the US (2.5%) and UK (2%) next. More than 71,000 unique users accessed our streamed content.
In the 12 months to 31 August the website had 590k hits from 586k new users. 35% of visits were from Denmark and 6% from Sweden, with the US (4%), Germany (4%), Greece (3%), Bulgaria (3%) and Poland (3%) next most common.
Feedback on the website was positive overall, though we recognise that the scale and volume of events made some elements difficult to navigate. More time for user experience testing would have proved valuable.
Zendesk
The global software-as-a-service company Zendesk have a large operation in Copenhagen and offered their customer support platform to us in a partnership agreement. The experience of World OutGames in Copenhagen in 2009, and of many recent major events, told us that we would receive a very high level of incoming enquiries in the lead up and during the event, and so utilising Zendesk could reduce the flow of enquiries that need an individual answer.
We began the process of setting up Zendesk in July 2020, and this was led by the Communications Coordinator working with the Senior Operations Manager. The platform was launched in October, and a user clicking 'Contact us' on our website would first be diverted to Zendesk where they would enter their enquiry. If Zendesk did not have an answer, it would send the enquiry through to the most relevant colleague in the organisation.
The team from Zendesk were excellent partners, and patient and supportive throughout. We acknowledge that we did not on-board enough colleagues in the organisation, and nor were we successful at informing them of the utility and importance of Zendesk. Consequently, we sometimes found that some functional areas were not responding to Zendesk enquiries as quickly as they should; the platform was seen as something to deal with when time was available, which it inevitably never would be. This was addressed and corrected in advance of the event.
A total of 2,389 enquiries were raised via the Zendesk platform, and 2,376 were fully resolved via the platform. The number of enquiries received was way below our expectation; at the start of the collaboration with Zendesk we said that we expected more than 25,000 enquiries – but this was in the earliest days of the pandemic.
Half of all enquiries were posted via our website, a quarter by email, and one-fifth from Facebook Messenger.
Social media
Several members of the Communications Team had ongoing responsibility for social media posts, and in early 2021 we hired a freelance Social Media Scheduler to cover the busy months leading up to the event itself. Every team in the organisation had access to a spreadsheet where they could plan posts for their area and events, and the Scheduler would take the content from this spreadsheet and schedule the actual content. Teams understood that if they did not schedule posts, generic posts for their area or their events would be posted instead.
Generally this process worked well, although there was difficulty in managing expectations when six teams responsible for 1,300 events expected all events, artists, speakers and other information to be shared. It was simply impossible for us to cover every event on social media, especially when we must also allocate posts to our partners and sponsors, to information on COVID19, and practical information.
In addition to our channels on Facebook, Instagram, LinkedIn and Twitter we also had a presence on WeChat, the biggest Chinese network. This was managed by an agency in Shanghai and focused on human rights and empowering content that celebrated diversity. Ours was not one of the pages targeted by the Chinese government during their crackdown on LGBTI+ pages on WeChat in the summer of 2021.
Sprout Social
Sprout Social is a social media management platform that allows all channels (except WeChat) to be managed from one web interface. It also has powerful monitoring and analytical tools. We used Sprout Social for all scheduling of social media and, during event live, it was used for monitoring incoming messages and responding to queries. Using Sprout Social meant that we could give different teams of staff and volunteers different levels of access to our platforms without adding them to the platforms natively.
Social media companies
We established and built upon strong relationships with social media companies who helped us to gain more reach and engagement. Twitter agreed to provide a branded emoji, so any account tweeting with the hashtags #YouAreIncluded, #WorldPride or #EuroGames would see an automatically generated emoji of our logo. This ran throughout August.
Facebook became a sponsor providing a significant amount of advertising credit that allowed us to broaden our reach. However, Facebook's advertising rules on social issues meant that we could only use this credit on advertising to users in Denmark itself. Facebook were also very helpful when we faced other challenges along the way.
Google also became a sponsor and provided significant support to our digital team and program, especially in relation to our live streams on YouTube. A significant YouTube credit was also applied to help our live streamed concerts reach bigger audiences globally.
Reach and engagement
During the event, we had 3.3m impressions across all social media channels, with 152k engagements and a total audience of 66k.
In the 12 months to 31 August, we had 55.2m impressions, 2m video views and 1.1m engagements. We experienced a 231% audience growth in the 12 months.
Of our total Facebook audience, 24.9% are located in Denmark (19.6%) or Sweden (5.3%), up from approx. 14% before the event. Significant audiences are in the US (16%), Italy (11%), UK (6%), Spain (5%), France (3.6%), Brazil (3.2%) and Germany (3.2%).
Detailed breakdowns for each channel can be found on our website.
Public relations
Public relations (PR) was handled by the Director of Communications supported by a Danish-speaking PR Consultant who managed media in Denmark, and two Communications Managers in Malmö who managed media in Sweden.
A spokespersons policy was developed in 2018 which clearly defined who was authorised to speak on behalf of the project, and what process should be followed. In reality this was often not followed as there were blurred lines for some people who had roles in both Happy Copenhagen and in one of the owner organisations. This meant that some media commentary and interviews were not known to the Communications Team until they appeared in media monitoring.
A detailed media engagement plan was due to be implemented from April 2020 but the changes in approach forced by the pandemic led us to revise our approach. We worked with several Danish, Swedish and international journalists on an individual basis and, from the autumn of 2020 we ran regular online press briefings to update media on our updated plans. In early summer 2021 we hosted an in-person briefing in the project office to give an outline to Copenhagen-based journalists. This was supported by the International Press Centre (based in the city) and Wonderful Copenhagen who shared the invitation with their networks.
Download the Press Kit (May 2021 version)
We monitored media using Retriever. In the 12 months to 31 August 2021, we generated 40,887 articles mentioning 'Copenhagen 2021', 'WorldPride' and/or 'EuroGames' and 36,292 (89%) of these were international media. Total gross readership 23.6bn (NB: total gross readership is not the number of people who read the article. It's a basic sum of the total readership of every title).
Media coverage, both domestically and internationally, was generally positive or very positive in sentiment. During the event we had 5,333 articles mentioning 'Copenhagen 2021', 'WorldPride' and/or 'EuroGames'. 3,768 (71%) of these were international (non-Danish) media. Total gross readership 2.6bn.
A separate file of press cuttings and more detailed analysis is available on the Copenhagen 2021 website.
Copenhagen 2021 Guide
In accordance with our aim to deliver a sustainable event, we wanted to avoid producing tonnes of printed material that might not be used, or would only be used for a short time before recycling. Many major Pride and LGBTI+ events produce in excess of 100,000 copies of their program, and we wanted to be more environmentally conscious. We therefore took an 'app first' approach, asking people to download our app for all event information, or asking them to access the same information embedded on our website.
We partnered with Pride Life Global, publisher of Pride Life Magazine, for production of the Copenhagen 2021 Guide. They printed 15,000 copies which included event highlights, as we could not include 1,300 events in the Guide for reasons of space and also because of timing as the Guide had to go to print almost four weeks before the event, and plans inevitably change. The 15,000 copies were distributed for free across Copenhagen and Malmö in hotels, tourist information centres, transport hubs, and at Copenhagen 2021 events and information points. Pride Life Global also had their own information stand in WorldPride Square.
The Copenhagen 2021 Guide was also available in digital format that worked well on both smartphone and tablet, with the same content as the printed version. The digital guide was accessed more than 100,000 times during the event.
The partnership with Pride Life Global reduced our costs in producing a Guide – although we curated content and designed approx. 70% of pages – and allowed us to rely on a professional magazine publisher with expertise we did not have in our team.
Event live communications
During 'event live' – that is, the period from 12-22 August when the Copenhagen 2021 programme was being delivered – the communications team operated to a different model, detailed in the Event Live Communications Protocol (ELCP). This document described functions, plans, crisis communications, and the lines of accountability should an incident arise. Each member of the Communications Team had a specific function within the ELCP, and the team had spent a half-day running through the ELCP and testing scenarios.
For event live, the Communications Team operated from a suite of offices in Dansk Industi, a large glass building facing WorldPride Square / Rådhuspladsen. One room was the Communications Centre where channels were monitored, outbound messaging was managed, and media bids were coordinated. A second room was a quieter room where colleagues could work, and the third room was a space that accredited media and colleagues could use for meetings and conversations.
The Communications Centre was staffed by Communications Team members, supported by more than 80 Includers who had applied specifically to take on a communications role, covering social media, PR, photography and videography. With a view over WorldPride Square, the Communications Centre had an upbeat energy and it was a hive of activity throughout the event.
Communications were monitored from 0600-2400 on most days, and to 0200 from Thursday 19 to Saturday 21 August. A dedicated phone line was used for media bids.
The Director of Communications attended a daily production and security briefing, and direct contacts had been arranged with external agencies such as the municipality, health ministry and police, should an incident arise. The crisis communications plan was activated once during event live, and worked well.
Applications for media accreditation (to give access to bona fide media to our events) were opened in August 2020, and applications were reviewed each month. We accredited 184 media – Danish, Swedish and international – and approximately 50% were from outside Scandinavia. A majority of non-Scandinavian media were European, but we also welcomed media from the USA, Canada, India and Australia.