8 July 2020
Leading sports and lifestyle brand hummel have today announced a partnership with Copenhagen 2021, the joint celebration of WorldPride and EuroGames taking place 12-22 August 2021 in Copenhagen and Malmo.
The event is set to attract more than 6,000 LGBTI+ athletes to tournaments in 29 different sports, whilst as many as 750,000 international visitors are set to arrive for ten days of sports, cultural, human rights and Pride activities.
Under the partnership, hummel will produce official Copenhagen 2021 merchandise across apparel, accessories and footwear and the range will go on sale in early 2021. Each sale will include a financial contribution to the organisers of Copenhagen 2021.
Chief Executive of hummel, Allan Vad Nielsen said:
"We are very excited about partnering with Copenhagen 2021. WorldPride and EuroGames will not only be the biggest event ever hosted in our country but the most important."

"In the wake of an unprecedented pandemic and a global call for concise actions supporting diversity and equality, Copenhagen 2021 is a paramount catalyst for inclusion and celebration next summer. This goes hand in hand with the hummel mission, values and spirit. As an iconic Danish brand with a philosophy anchored in the power of sport and positive change, we are very proud to have this opportunity to support the LGBTI+ community, to learn and build from the experience and to welcome Pride participants and EuroGames athletes to Co pen hagen and Malmo."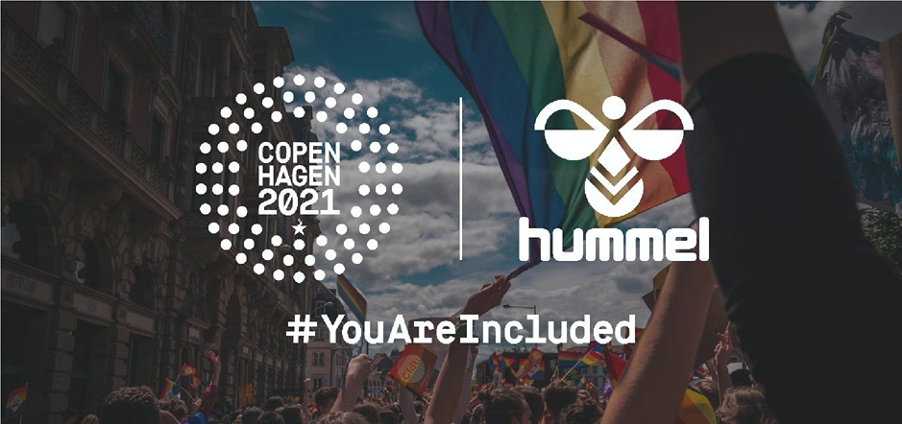 In addition to the merchandise range, official apparel will be produced for the 3,000 volunteers being recruited to help deliver the event.
A spokesperson for Copenhagen 2021 said:
"With hummel's commitment to changing the world through sport, and their long-standing commitment to equality demonstrated through their support for campaigns against homophobia in football, and their innovative rainbow jersey campaign at the 2018 World Cup in Russia [pictured above], they are a naturaI partner for Copenhagen 2021."

"Across Copenhagen and Malmo residents and visitors alike won't be able to miss our team in their eye­ catching hummel Copenhagen 2021 kit, and we are sure their high quality and distinctive range will be a hit with the LGBTI+ community here and abroad."
The range will be revealed in the autumn, and it will go on sale on the hummel and Copenhagen 2021 websites and at selected retailers from February 2021. Various drops will be launched from February up to the event in August.