Malmö is a vibrant city and a melting pot of nationalities and home to people from 184 different countries. Malmö is a young city with half of its population under the age of 35 and has more pubs and restaurants per capita than anywhere else in Sweden.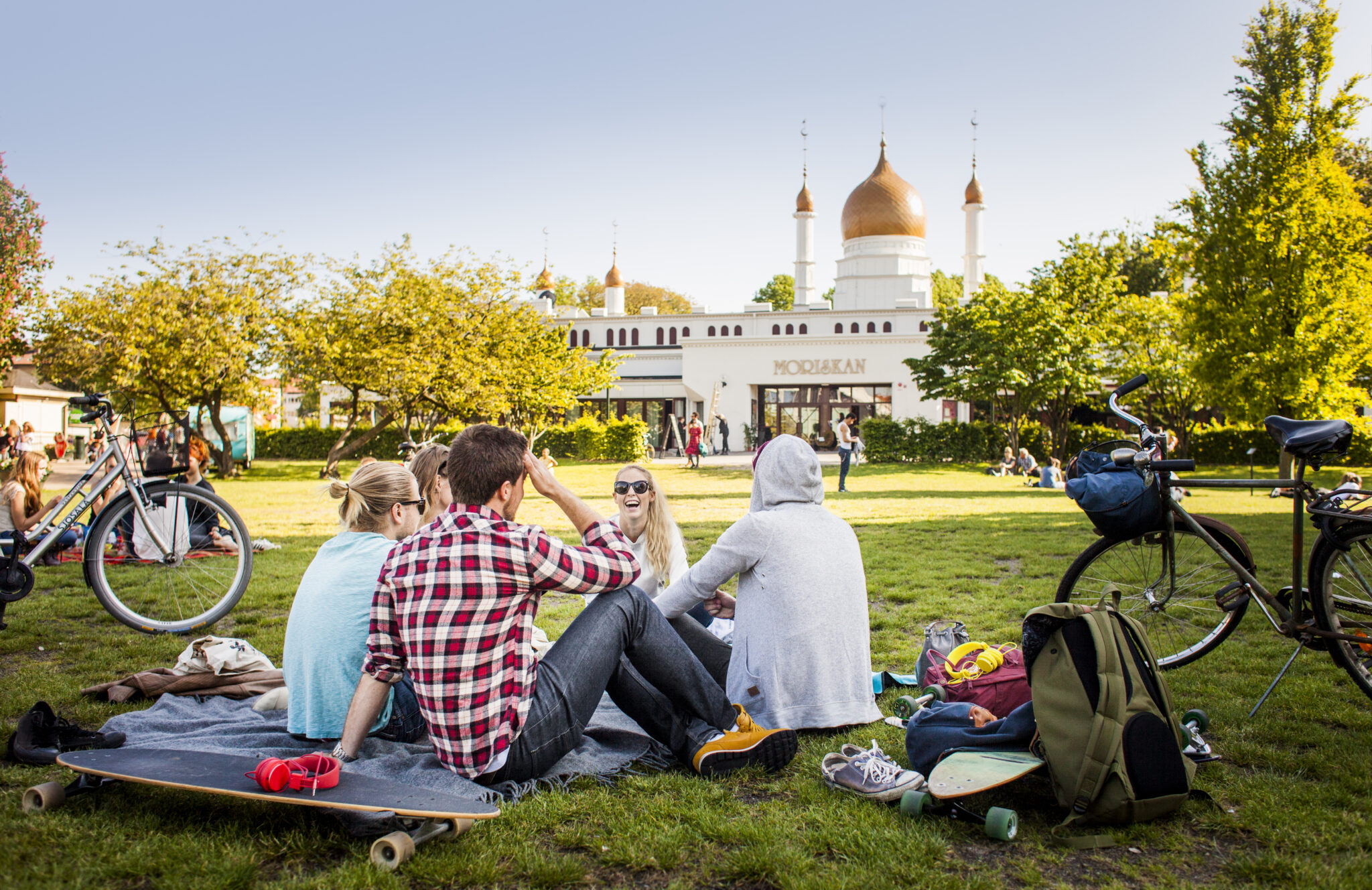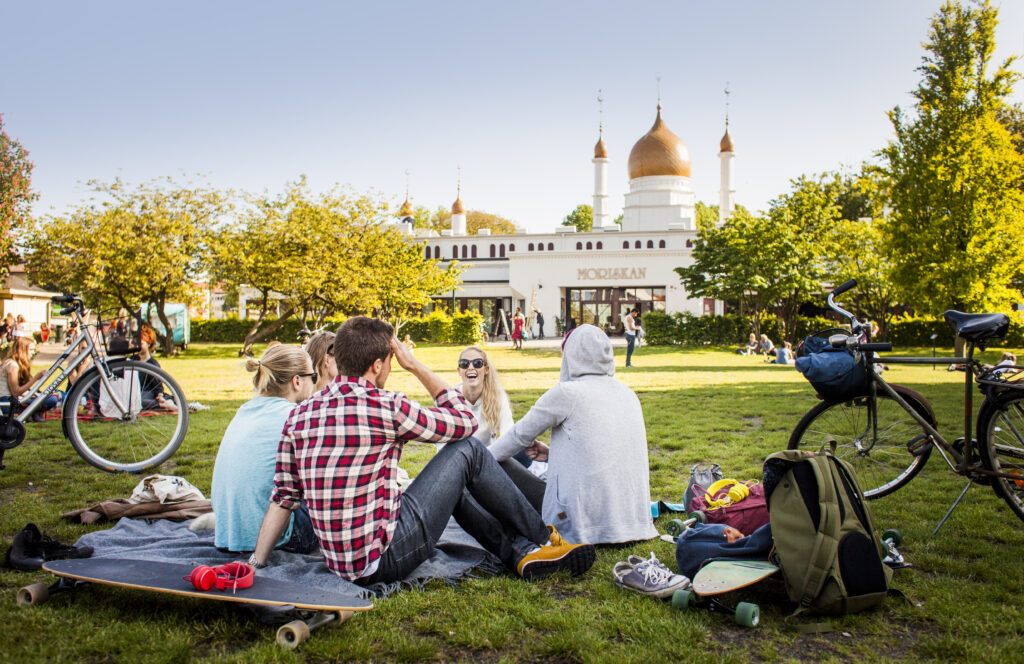 It has a superb social scene and a strong focus on culture and cuisine. Malmö is also known for being super family-friendly and there are many attractions for kids of all ages. It is a place where people create experiences together. Here you'll meet the promising young designer, the chef pushing culinary boundaries and the up-and-coming band recording their first album.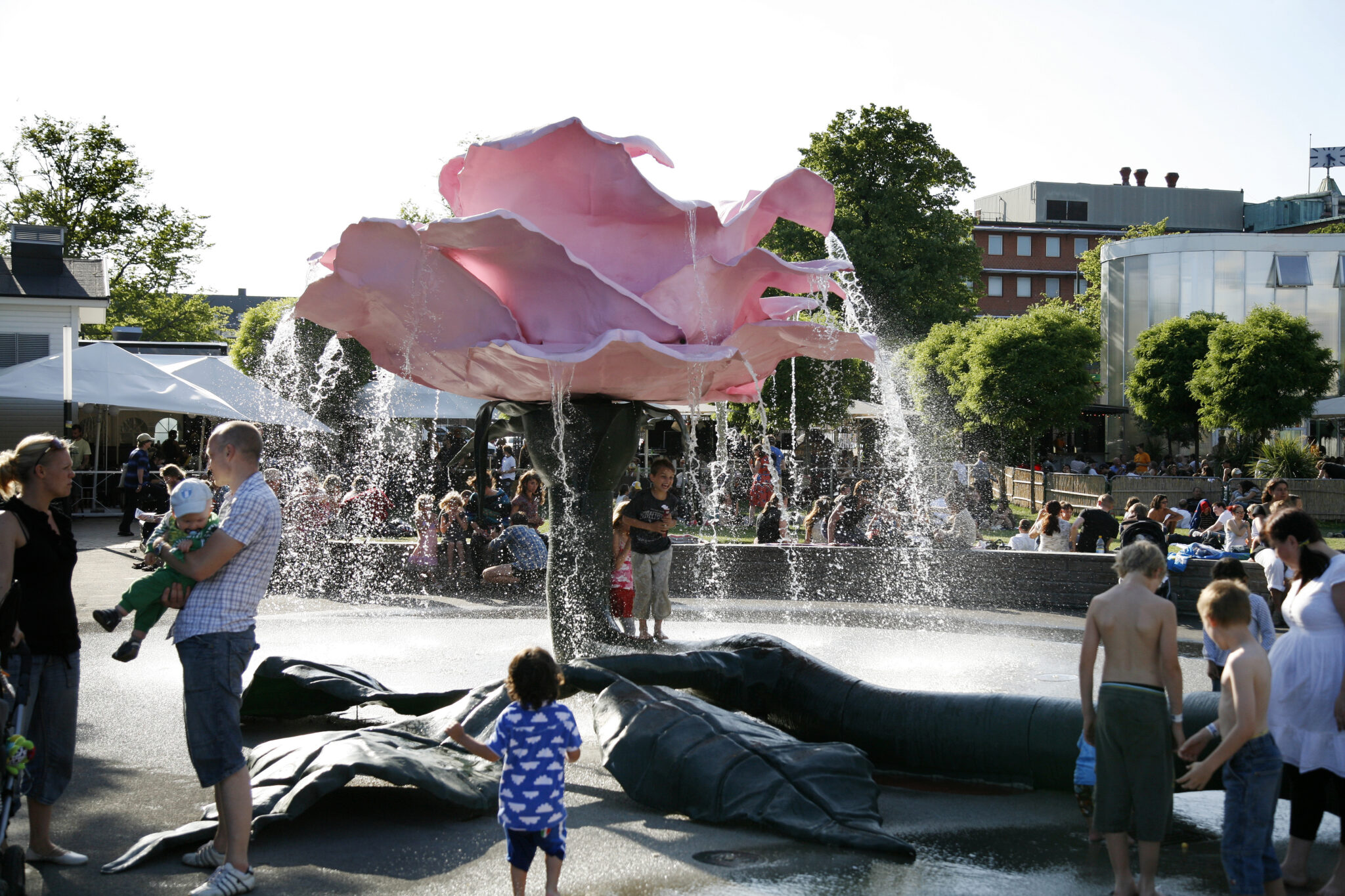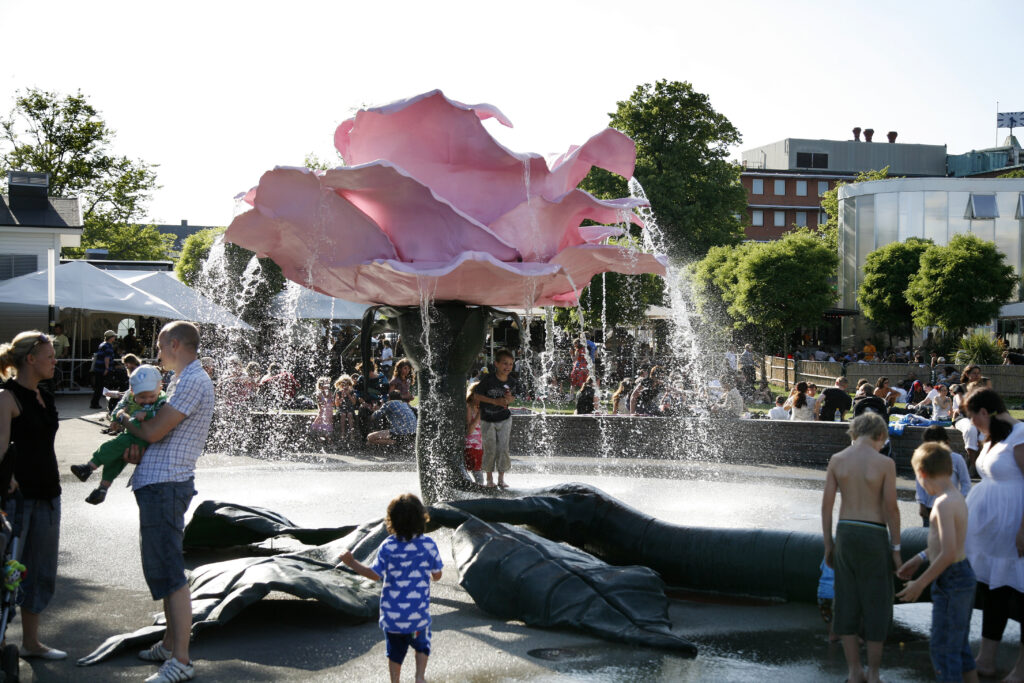 What to do in Malmö
Nightlife
To find out where to go and what to do read the gay travel guide for Malmö by Couple of Men. It includes tips on nightlife, what to do and where to stay. It is written by Karl and Daan, a German-Dutch blogger couple. They attended Malmö Pride 2020 and took the chance to talk to people from the community. The feedback they received was that all love and appreciate Malmö for its LGBTI+ friendliness, diversity, and sustainability.
Sightseeing
The Dutch couple Roxanne and Maartje compiled a list of 21 top things to do in Malmö. They took a boat tour, biked around town to see street art and discovered their favorite square in Malmö: Lilla Torg. They fell for the lovely vibes of the little square, full of restaurants and cafes, with cobblestone streets surrounded by historical buildings. Perfect for a Fika. They blogged about their Malmö trip on Once Upon A Journey and posted videos on their Youtube channel for inspiration.
Wedding destination
Malmö is also a suitable destination for newlyweds. The German couple Jan and Eric spent their honeymoon in Malmö and combined it with visits at museums and in the outdoors. Like the locals, they went for sauna bathing and a dip in the sea at Ribersborgs kallbadhus. The journey is captured on Couple Miles to go – YouTube channel.
Eat, drink and stay in Malmö
Malmö has a young population. This has a positive effect on prices and costs. Malmö offers a wide range of places to eat, drink and stay that fits every budget. In general, accommodation costs are moderate in Malmö compared to other cities in Sweden.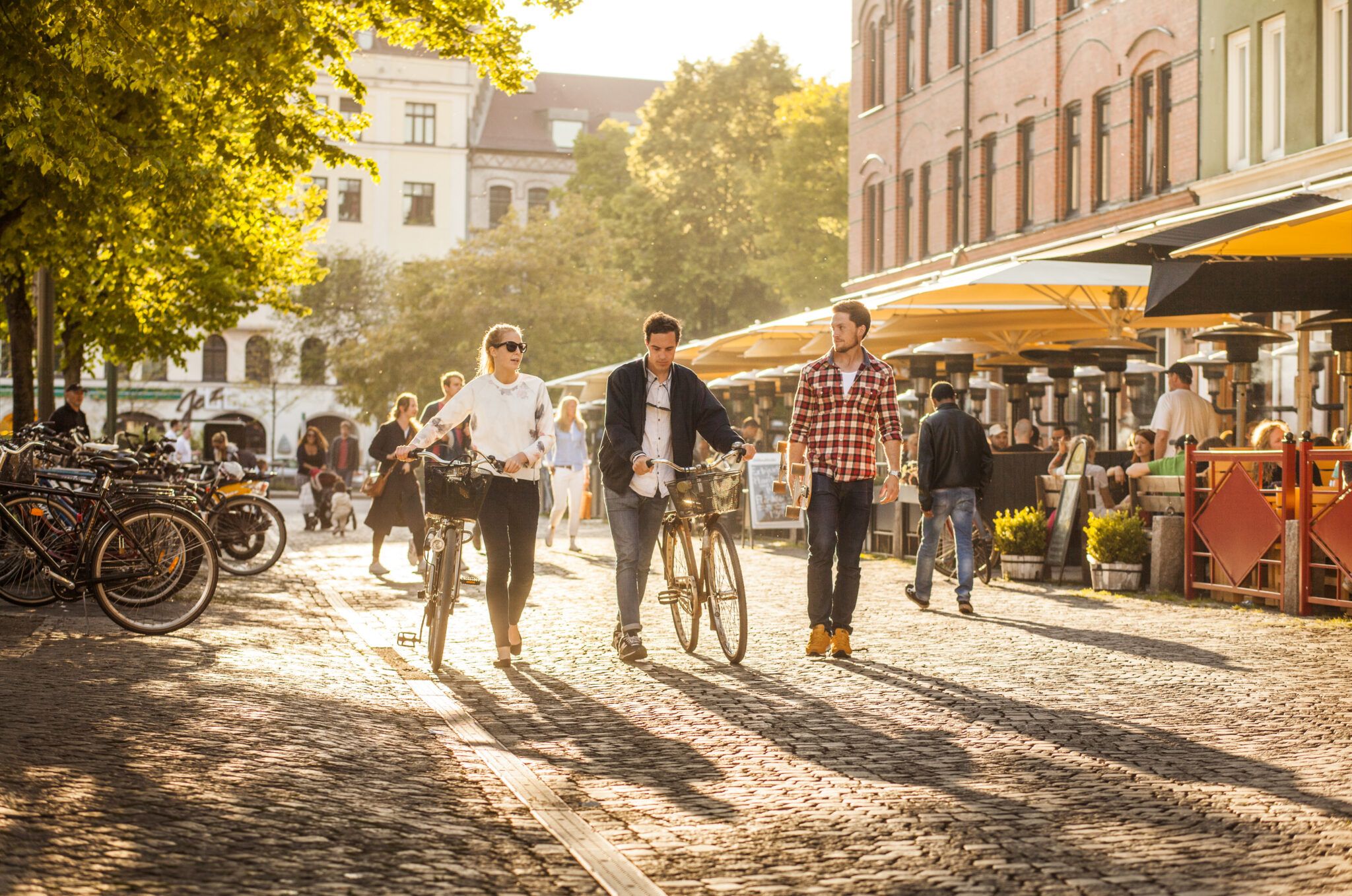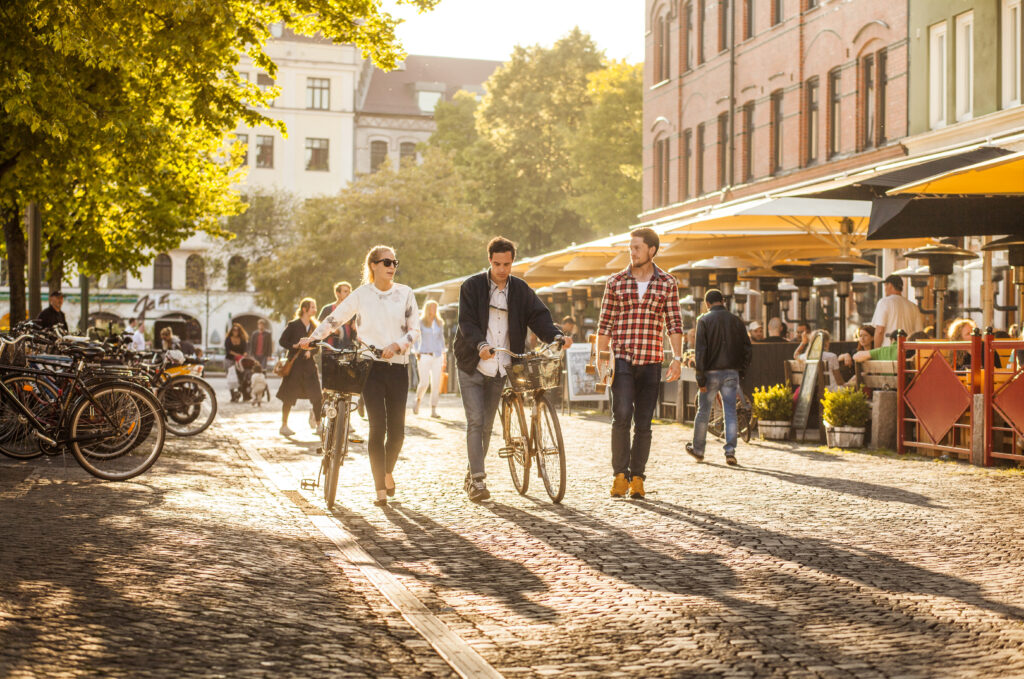 Food
Malmö offers food from all over the world; Scandinavian cuisine, oriental flavors and it is known as Sweden's falafel capital. You can fine dine at a Michelin-awarded restaurant or get your hands on yummy fast food. Malmö is considered by White Guide to be the best coffee town in Sweden.
Swedish Fika
Don't miss out on a Swedish Fika which means a coffee break enjoyed with friends, family, colleagues or just to relax a moment on your own. It is obligatory to eat a kanelbulle, the Swedish cinnamon bun! Find out about places to eat and drink here.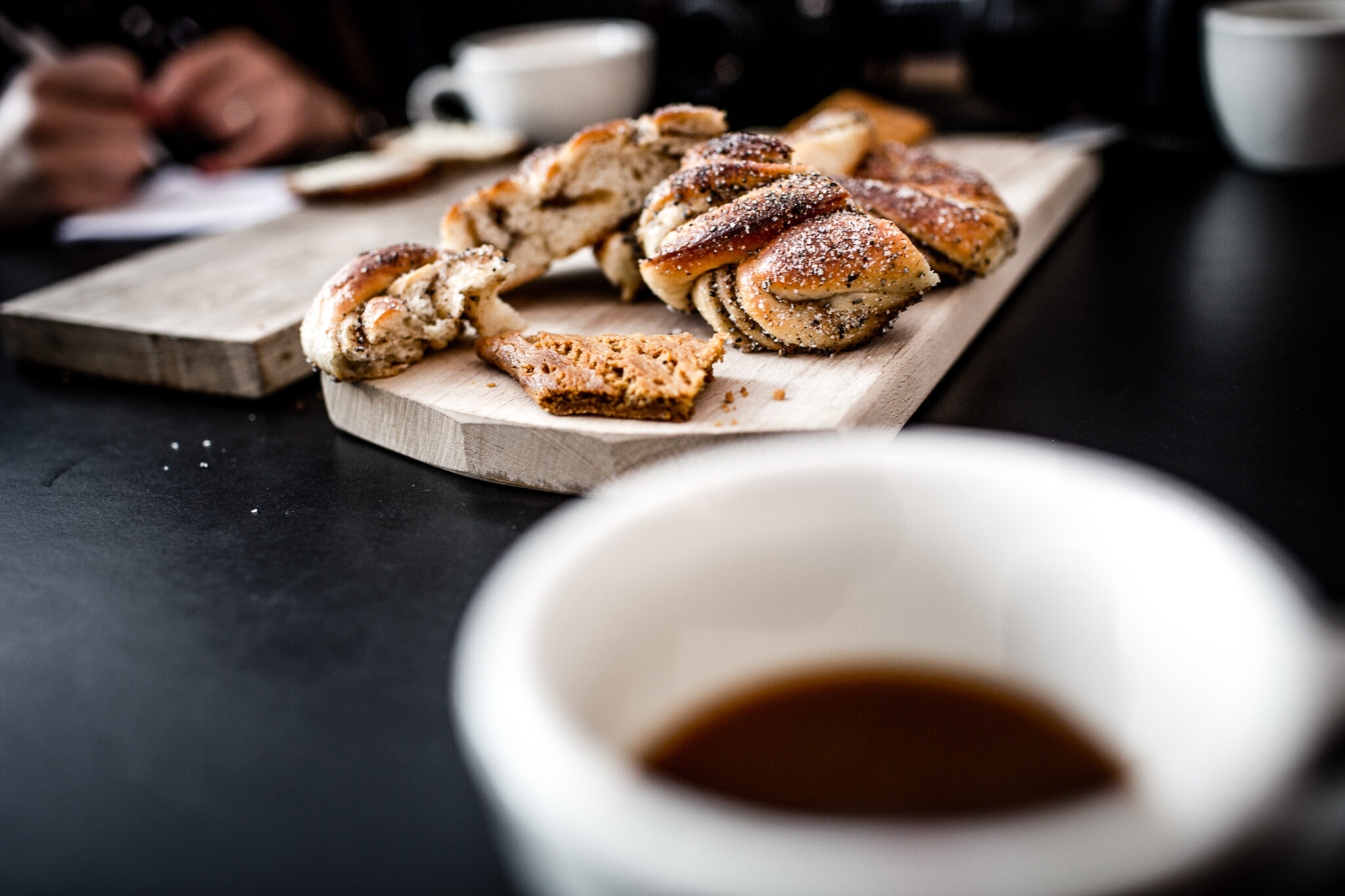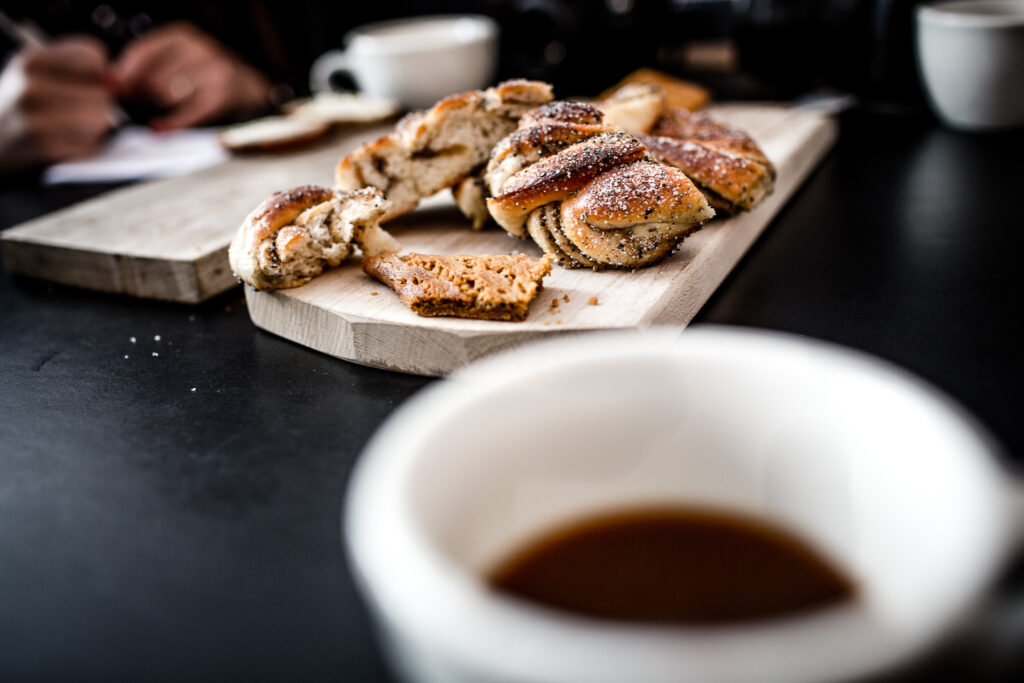 Whatever you crave, there are plenty of places to choose from. Most of them you will find in the following areas:
Möllevångstorget
Explore the multicultural area around Möllevångstorget. It is the heart of the cultural district, with its open-air market, hip food court, bars with outdoor seating, vintage stores and galleries.
Folkets Park
Just around the corner is Folkets Park that offers many attractions. Playgrounds for children as well as restaurants and plenty of space for picnics.
Shopping street
Enjoy the shopping along the pedestrian street of Södergatan, Davidshall and the Old Town.
Lilla Torg och Gamla Väster
Lilla Torg, Malmö's 'little square', is full of hustle, bustle, bars and nightlife. It is a tourist spot in the old part of the city and flooded by locals on the weekends. In this area you will find most of Malmö's bars, restaurants and hotels of all price ranges. Just a stone's throw away is Gamla Väster with its quaint houses and small cafés. Here you can find hidden gems with good food, for a good price and chat with locals.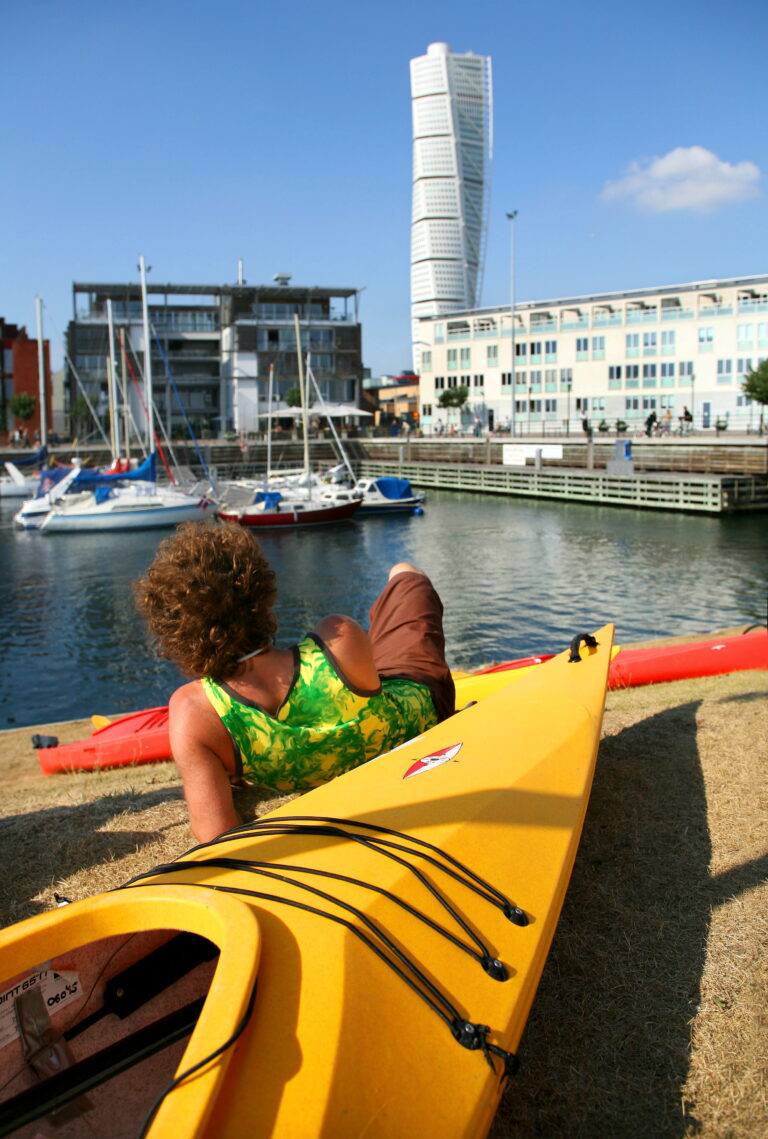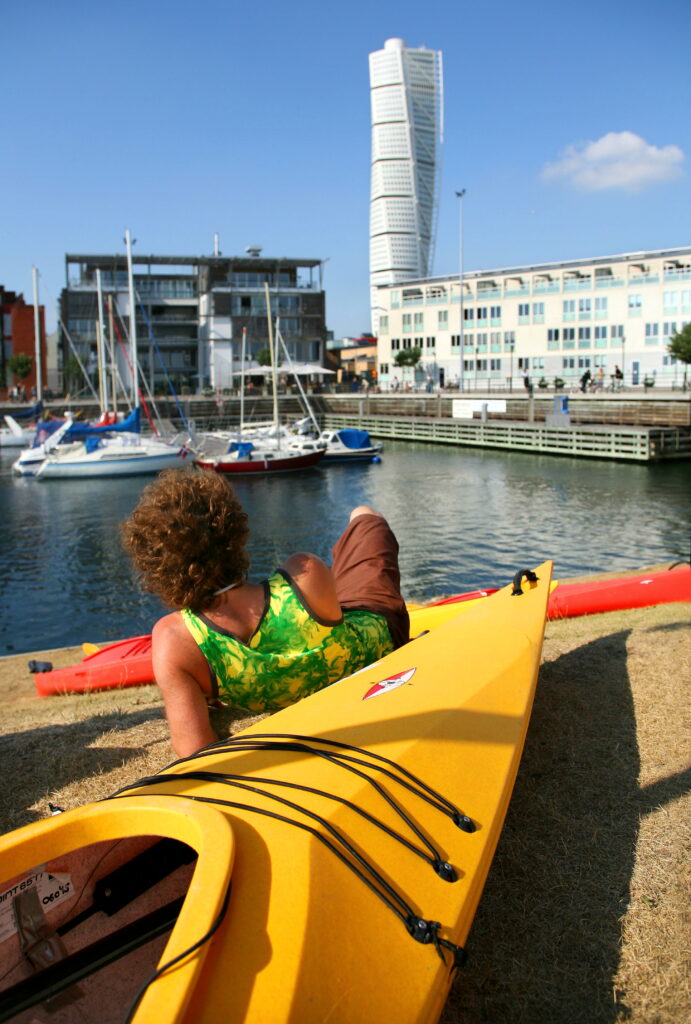 Västra Hamnen and Ribersborgs strand
If you see a twisted skyscraper on the horizon, it is Scandinavia's tallest building, the Turning Torso. Follow the tower and you will find yourself in the Western Harbour, a self-contained eco-area alive with joggers, skaters, swimmers and events all summer. Enjoy the beautiful ocean view or take a stroll along Malmö beach to the outdoor bathing house called Ribersborgs kallbadhus. Open all year round, this is where both locals and visitors experience cold water bathing and sauna – a beloved tradition in Sweden.
The canal and green areas
There are plenty of green areas in Malmö for recreation, picnics, a jog etc. If you want to be active, rent a paddle boat or a kayak and explore the city canal which runs through Slottsträdgården, a beautiful garden in the middle of Malmö.
Getting to Malmö
By air
Malmö is probably Sweden's most accessible city no matter if you're arriving by train, bus, ferry or plane. There are two international airports close by. Copenhagen Airport is a short 20-minute train ride away from Malmö Central station. From Malmö Airport it will take about 30 minutes to reach the city center by bus.
By train
There are direct train connections from Sweden's capital Stockholm (4.5 hours) as well as Gothenburg (2.5 hours). It is operated by the national train company SJ. There are many train connections between Malmö and Europe. Fast trains from Malmö to Hamburg, Germany take about 4.5 hours. There are similar possibilities if you want to travel by bus from Europe or within Sweden.
By ferry
If you come by car you have the possibility to take the ferry for the last part of your journey. You can reach Malmö from harbours in Germany, Poland and Denmark.
Public transport
Malmö offers an extensive local public transport system which makes it easy to get around in Malmö and all the way to Copenhagen. It only takes 35 minutes by train to join the Copenhagen 2021 celebrations on the other side of the Øresund Strait. If you feel like you want to explore the greater area of Malmö and Copenhagen, you can rent a car from the many rental companies on location. But you can do the same by using public transport which suits the smaller budget.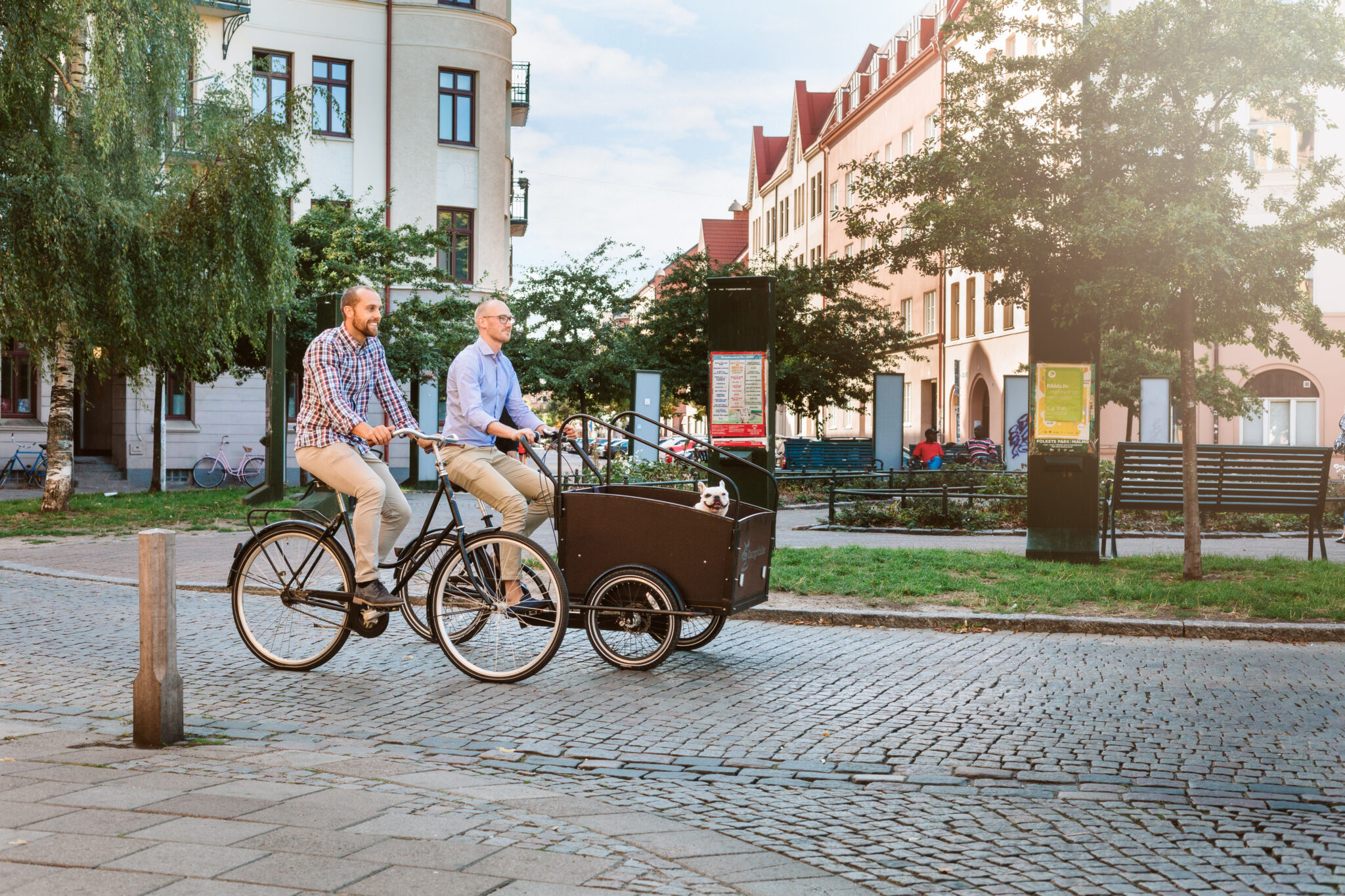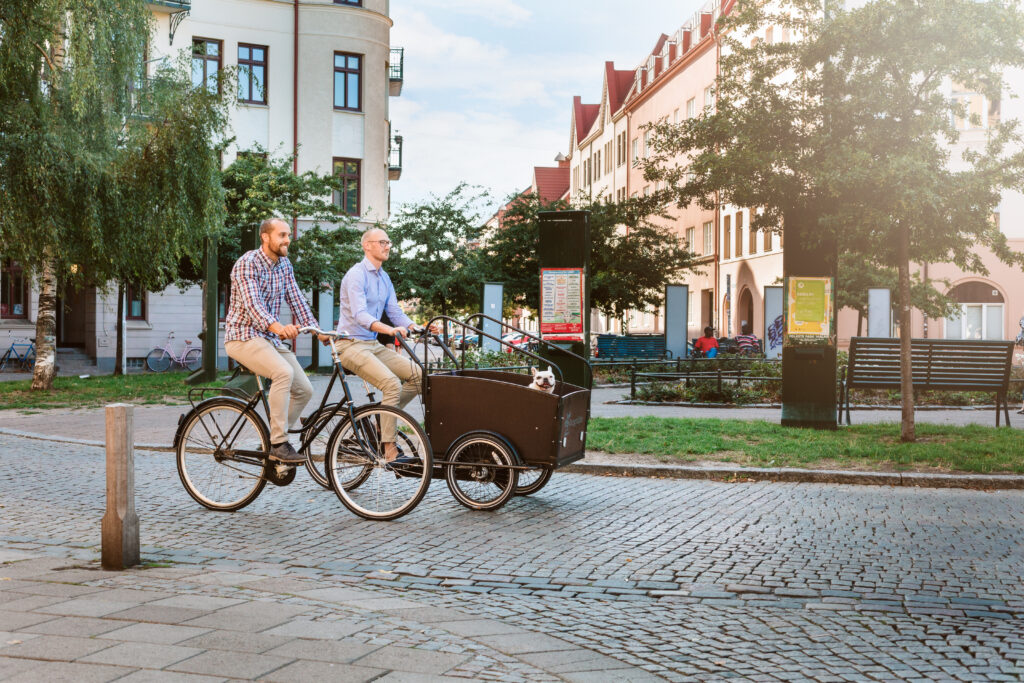 Border controls
Be aware of possible border controls between Denmark and Sweden. Check the Swedish police website www.polisen.se regularly for updates and temporary restrictions. For information on visa requirements visit the website of the Embassy of Sweden.
Travel links
More travel inspiration

Currency and how to pay in Malmö
The currency in Sweden is the Swedish krona (SEK) or Swedish crown (note that this is different to the Danish kroner DKK). Cash or ATM machines are called Bankomat and can be found in small and big towns. They accept most international credit cards. But please be aware, Sweden is more or less a cashless society. Most of the country's bank branches have stopped handling cash. Many shops, restaurants, cafés, bars and museums only accept credit cards or mobile payments. It is common to use apps to purchase bus and train tickets.