The motto for Copenhagen 2021 is
#YouAreIncluded
This applies to the entire LGBTI+ community and to society as a whole; businesses, authorities, funds, politicians, sports and civil society organizations, educational institutions, and professional operators.
Anyone, who is supporting the cause, and who is willing to make an effort to make a difference, can join us.
With Copenhagen 2021 as the occasion, the goal is to create societal change to ensure that no one will ever again be excluded based on their sexuality or gender identity.
The Rainbow Alliance
To achieve this goal, Copenhagen 2021 has established the Rainbow Alliance as the model for involvement and commitment.
In the Rainbow Alliance, we gather a diverse group of operators who will each contribute with their unique talents, and through concrete efforts, we will work to make sure that everyone—regardless of who they are, and who they love—are included in society, can be who they are and live the way they please.
We will do this through visibility, information, education, and especially academic and concrete collaboration to plan and execute Copenhagen 2021.
What we do together is our common pledge.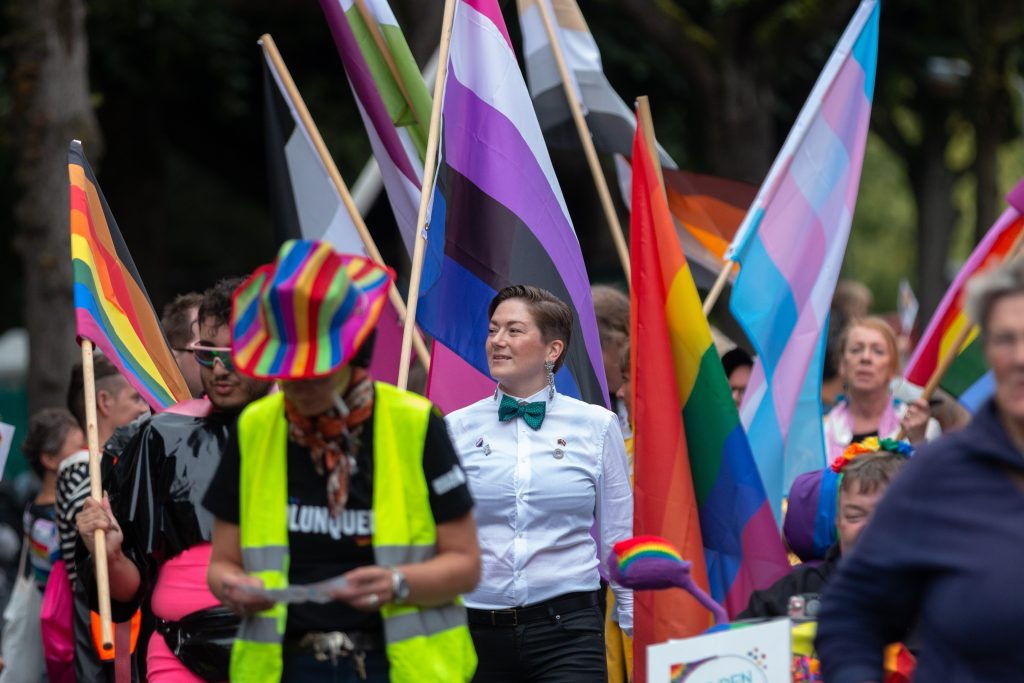 A Rainbow-colored Rubik's cube
The Alliance can be seen as a rainbow-colored Rubik's Cube where the six sides can be turned to create new, multi-colored constellations. The collaborations in the Rainbow Alliance similarly open up to new combinations with endless opportunities for variations.
Who's in?
The partners in the Alliance are the center for all activities. They each contribute their core skills. The ambition is that when a large variety of operators from a broad spectrum of circles, trades, and sectors get together to solve a task, new possibilities, innovation, and changes are made possible. This is why we are inviting national and international operators, like:
Businesses
Public and municipal institutions
Funds
Individuals
Organizations
As a partner in the Rainbow Alliance, you have the opportunity to reach other operators with the same interests or focus. This will happen via networking events and working communities in smaller and larger forums.
Please contribute ideas for new partners, and please invite your own relevant partners to join.
What are we working with?
Copenhagen 2021 and the pledge of the Rainbow Alliance are far-reaching ventures. That is why the Alliance works with a broad spectrum of subjects across the four Pillars and several transversal themes:
Sports and Health
Culture, Art, and Festival
Human Rights
Inclusivity, Communities, and Inclusion
Security, Safety, and Volunteering
Families, Kids, and Youths
Funds, businesses, organizations, and authorities often have a specific field they are experts in. In the Rainbow Alliance, we are able to match partners who share strategies, products, or passions.
How do we collaborate?
There are many routes into the Rainbow Alliance: perhaps you have spoken to one of our program directors from Happy Copenhagen, maybe you have come across a mention of the Rainbow Alliance in the media, or you know someone in Pan Idræt. Or perhaps you've been specifically invited.
The Rainbow Alliance aims to be valuable to everyone—like a give and take relationship. That is why all collaboration will be based on a common understanding of the values of the Alliance Pledge and Copenhagen 2021. From there, we will work out how you and your organization can contribute to make sure that our collaboration makes sense for both of us. Obvious contributions and collaborations could be:
• Sponsorship
• Product licensing
• Media campaigns and press coverage
• Ambassador work
• Volunteering
• Donations and project contributions
• In-kind services
• Handling of specific tasks
• Networking events
The Alliance Pledge
As Alliance partners we pledge ourselves to work in each our own way to create a strong and lasting alliances between civil society, businesses, organizations and the LGBTI+ community.

As members of the Rainbow Alliance, we join one of the world's most inclusive initiatives with the purpose to point out and solve challenges faced by the LGBTI+ community.

Together, our Alliance will prove that we are serious when we say:

#YouAreIncluded
Contact the Rainbow Alliance
Helle Bjørnstrup, Fundraiser
hb@copenhagen2021.com
+45 31 58 98 58